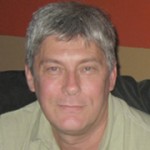 What is life without fond memories? Some times in life we need an escape to a familiar place, a secret place that reminds of us of our childhood, family, or the best of times. Drift away to that secret place inside the fine art photography world of ED SWONGER
Swongers's body of work is composed of vivid familiar scenes that are warm, inviting, and somehow—personally familiar. It doesn't take much to see yourself in one of Swonger's familiar scenes. Swonger's art does not require a deep esoteric explanation—just open your eyes and you are there.
"I grew up in a small town near Pittsburgh, Pennsylvania. The hills and valleys and wildlife of the area instilled in me a love of nature. And my wanderlust has always kept me searching for new vistas to experience.
"The magic of photography has intrigued me since age eleven when I received a small Kodak camera for my birthday. My family didn't have a lot of money back then and the expense of buying film and having it developed was often cost prohibitive. It wasn't until later in my twenties that a friend gave me an old Graflex twin-lens reflex camera that had belonged to her grandfather. It was the type of camera that you had to hold at belly level in order to see the dull viewing screen at the top. I carried that thing around with me everywhere and although it was a bit cumbersome I began to eagerly anticipate what I could produce with this creative and beautiful means of expression.
"At one point, once I realized the beauty that I was able to capture with my camera, I recalled something my father once said to me. My father was a well-respected trap shooter and hunter back in his day. On Sunday afternoons when my brother and I were young our father would take us to the family's old farm where there was a pond down the road. We would gather up all the bottles we could find at home and bring them out to the pond. My father would throw the bottles into the air or into the pond and we would try to shoot them. One Sunday after we had become pretty decent shooters, my father, who was not long on compliments, said to me "You have a good eye Ed." I cherished that compliment and still do today, though I don't shoot with a gun.
"Although there are many gifted photographers today, my appreciation of photography came through my discovery of some of the "old masters" – Edward Steichen, Alfred Stieglitz and my personal favorite, Henri Cartier-Bresson. My major influences, though, came from my love of the painters of the impressionist era – Monet, Pissarro, Cezanne, Seurat, Matisse, Gauguin. I love the soft, pleasing brush strokes in their work and the luster of the colors they used.
"In taking photographs I try to compose shots that one could get lost in – as though one were looking through a window or into a kaleidoscope. My hope is that people may appreciate my views of the beauty of nature as well as the beauty that man can create and thus feel fulfilled for a small amount of time in our busy lives."